About Us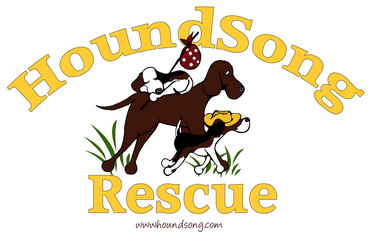 We are a foster based Beagle and Coonhound rescue service, based in NorthWest Indiana, providing placement-rehabilitation-rehoming of Beagles and Coonhounds. We service primarily Indiana, Illinois, and Kentucky. We offer rescue services to shelters, hunt clubs, breeders, and private individuals whom have dogs in need. We also offer welfare education, training,and behavioral evaluations. We began rescuing Beagles in 1995. We added the Coonhound to our efforts in 2004.
Our Mission
HoundSong Rescue is an "animal welfare" minded rescue. Rescues can generically be broken down into two broad classifications, Animal Welfare and Animal Rights. While we believe that both have their purpose and function in the rescue community, we find our thinking more broad and accepting than that of organizations like PETA and the HSUS.

HoundSong believes in cooperation and education across the many differing aspects of the animal community. We believe that each of many differing aspects of and opinions on animal care and management presently serve a purpose in the animal community. We believe that an equitable working relationship with the many aspects of animal community is the one true solution to animal welfare challenges.

HoundSong Rescue's focus in on the future of the dogs in our care, rather than their past. We believe our rescue is a promise. A promise to the dogs and to those who adopt through our organization. HoundSong Rescue makes every effort to continue to serve the dogs adopted through our organization for their entire lives.
Staff
Roberta Lee
Director

Darin Lee
Director

Brooke Clevenger
Coonhound Coordinator

Lori Marshke
Beagle Coordinator

Kim Frazier
Board

Mindy Miller
Board